The Ukip leaders boo-winning European parliament rant shows he isnt going anywhere but will Brownfinger drag us all down in a race to the bottom?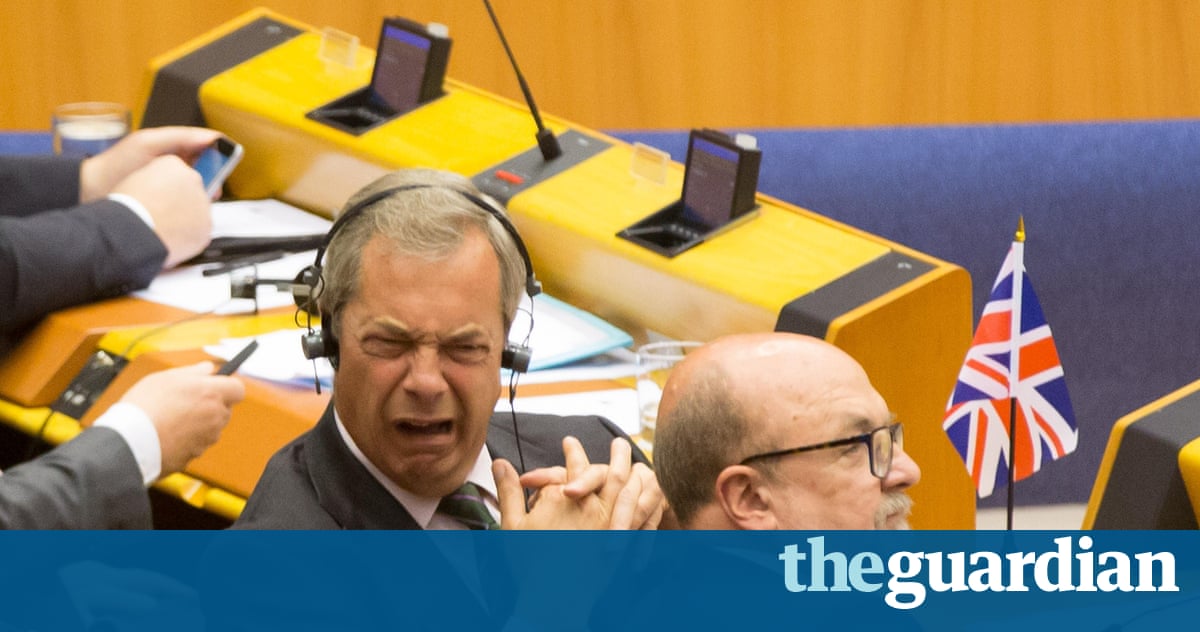 In a crowded field, I think it was the flag that was the killer. The absolute state of that flag. Nigel Farages desktop Union Jack, with its little sucker pad leeching obnoxiously on to the unlovely beech of the European parliament chamber. Part of the genius of the TV series The Office was its ability to distil all human life down to a series of recognisable archetypes most people had encountered at work. To see Farage there with his desktop flag was to suddenly and irrevocably understand it: the UK is the Gareth Keenan of Europe. This is how we must look to those still condemned to share continent-space with us: petty, unlovable, essentially terrified, our workplace set up in a show of cod-martial defiance, which in fact only flags up our raging insecurity.
Farage has been building up to this moment his entire political life, as he tells everyone at every single opportunity. In which case, how is it humanly possible that his speech to the European parliament today could be so artless, so crass, a scarcely refined version of some England fans infamous recent chant: Fuck off Europe, we voted out? To couch it in the sort of imbecilic historical inaccuracy which is the only language Farage understands: this speech was so bad that theyre now quits with us for saving them in the second world war.
You may disagree with this reading of the war; Nigel would regard it as hugely overcomplicated. This, he repeated once more, was a victory against big politics. Virtually none of you, he bellowed at the MEPs, have ever done a job in your lives.
Read more: https://www.theguardian.com/commentisfree/2016/jun/28/nigel-farage-european-parliament-petty-rant-ukip
Tags: EU referendum, Europe, European Union, Foreign policy, Nigel Farage, politics, UK Independence party (Ukip), UK news